All the believers were one in heart and mind. No one claimed that any of their possessions was their own, but they shared everything they had.–Acts 4:32
It was great to start the month of June off for Kicking Bear in Medicine Lodge, Kansas.  Celebrating their tenth year of camps this year was going to be awesome.  We started the week finishing off the Veteran's Turkey hunt and then on Thursday night we had a men's gathering.  As Ray was speaking to the men about what a Godly marriage looks like and all the benefits of being a chord of three with God and your wife, God was putting exclamation marks on the discussion with big crashes of thunder and sheets of rain.  This part of Kansas really needed the moisture so as storms popped up during the week we were thankful, but with camp set to go the next day we were honestly praying for just a small break in the weather.  
Despite the rain Thursday night we woke up to sunshine on Friday and started prepping out at the Grant-Larson Ranch for camp!  Later that afternoon though the clouds gathered again and back came the rain.  We were once again thankful for the moisture, but we couldn't pull off starting camp out at the ranch with all the puddles and mud.  We needed a back up plan.  And that is when it seemed like the whole community of Medicine Lodge went into action.  
As the local camp team began making phone calls, things fell into place quickly.  Pastor Tom at First Christian Church opened the doors of the church so we could do Friday night dinner there and even use the gym for games, worship and a Gospel message!  The volunteers from United Methodist Church serving food moved their operation to the church and families showed up for an awesome evening.  Things were going great on Friday night but the storms kept brewing outside and it soon became a reality that if we were going to pull off camp on Saturday we weren't going to be able to use the ranch.  With a new challenge presented, the unity continued as First Assembly of God pastor Rodney welcomed everyone right into the backyard of their church, and wouldn't you know it, it was a perfect set up!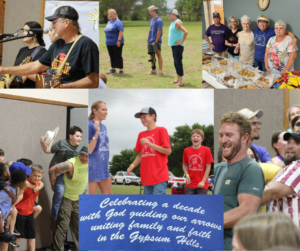 Saturday morning started with a frenzy as an amazing crew of volunteers helped set up for camp at the new location, while families were served an awesome breakfast inside.  Community Bible Fellowship and Holy Rosary Catholic Church of Medicine Lodge provided volunteers and supplies along with so many other amazing community groups and local sponsors.
After all hands were on deck setting up for camp we gathered for our safety meeting and then it was go time!  Kiddos got to shoot archery and bb guns, throw tomahawks, tackle the Kicking Bear tough course and even walk on water.  That's right!  One stop on our rotations was an awesome Bible lesson on Matthew 14 and kiddos really got to walk on water, was awesome!  Andrea Fisher, Jake Fisher and Kelly Long shared the history of how Kicking Bear was brought to Medicine Lodge 11 years ago.  Was so cool to hear how God wove together just the right people at just the right time years ago to make everything possible.  After that we shared the Gospel again with all, tossed some marshmallows and water balloons and then to top it all off we celebrated with 4 baptisms.  God kept the rain away just long enough for us to have a fun filled day, we were very thankful for that.
Seeing a community of believers come together the way they did in Medicine Lodge is so encouraging.  God really does call us all to be a body of believers who work together and that is exactly what happened in Kansas.  Check out this exchange between two of the local pastors!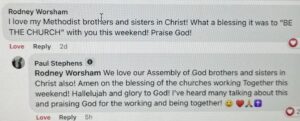 The quote on the back of the ten year anniversary camp shirts says it all, "Celebrating a decade with God guiding our arrows uniting family and faith in the Gypsum Hills". Thank you God, and here is to the next ten years!!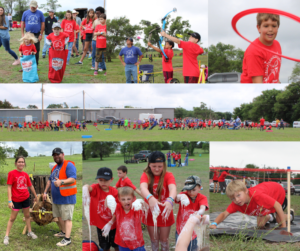 Check out more memories from camp here: