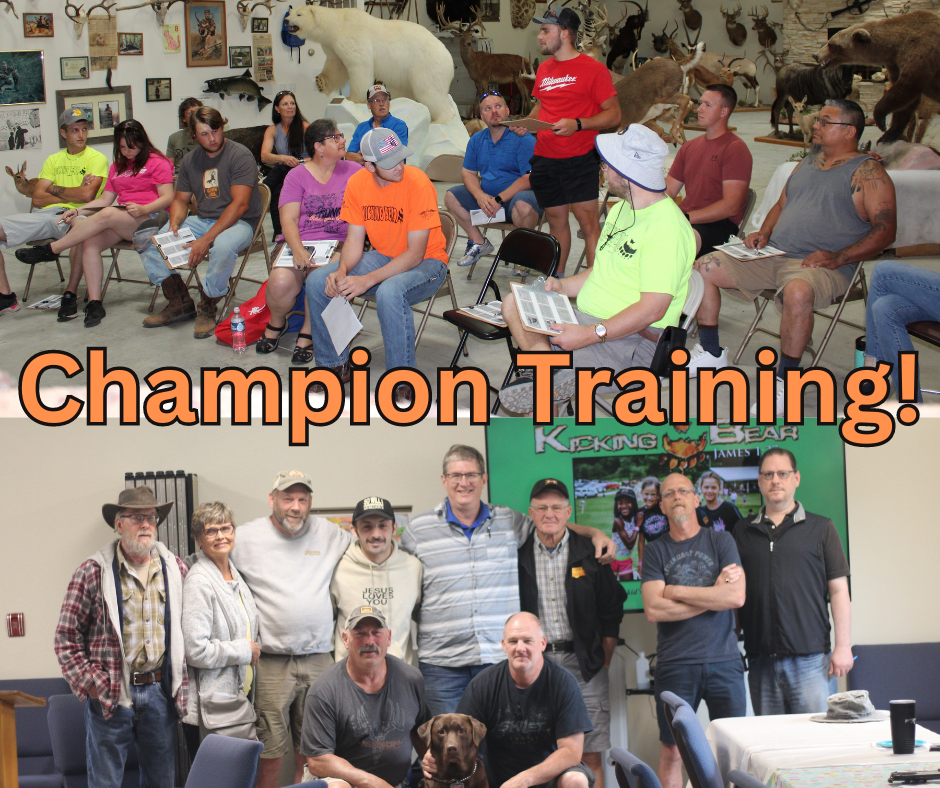 By Kevin Bonnar
Back in January we shared the 153 Vision with our leadership team.  The 153 Vision for Kicking Bear includes training up more disciples all across the nation so that the ministry can expand into new areas and have even more impact reaching kiddos and families for Jesus.  We developed a training program and kicked off everything at the Melbourne, FL camp back in February.  The idea was to equip Champions with all the knowledge and workings of a Kicking Bear Camp or Event and then get those Champions plugged into camps and events so they could apply that training.  We know every camp will be unique, but the core structure of an evangelism camp for Kicking Bear is usually similar no matter where we are. 
We kicked off the month of July by hosting a Champion training right at Ray's house up in Minnesota.  We had 14 folks step up for training that day and man was that a blessing!  We covered all classroom learning and then set up a mini camp for our families and friends to come out so that Champions could apply what they learned.  Many of these Champions then jumped right into local events in July to gain even more experience!
Another blessing came when we got to Roscommon, MI in the middle of July.  We were headed up for their camp at Bambi Lake and suggested to our good friend Michael Ritchie that we would be happy to do a Champion training up there if anyone would be interested.  Michael quickly spread the word and Pastor Erikson Aldridge graciously opened up the church doors for us to have a spot for training.  How awesome that even with short notice we had another 9 folks give a "yes" and complete the training the very next day. We were then able to take all nine Champions to camp that afternoon and put the training in action!  
So far this year we have trained 30 Champions!!  These folks live in Florida, Texas, Minnesota, Kansas, Michigan and Wisconsin.  We even had one Champion, Dennis Pawlowski with Trinity Sportsman Ministries in Florida, come up to visit last week to attend our Rochester, MN adventure day at Coyote Creek. It has been really cool seeing God's vision for the ministry come to life!!  The goal is to eventually have 72 trained Champions ready to go out and live out the Great Commission making disciples all over the country!  If you would be interested in hosting or attending a Champion training camp please reach out to Kevin– kevin.bonnar@kickingbear.org