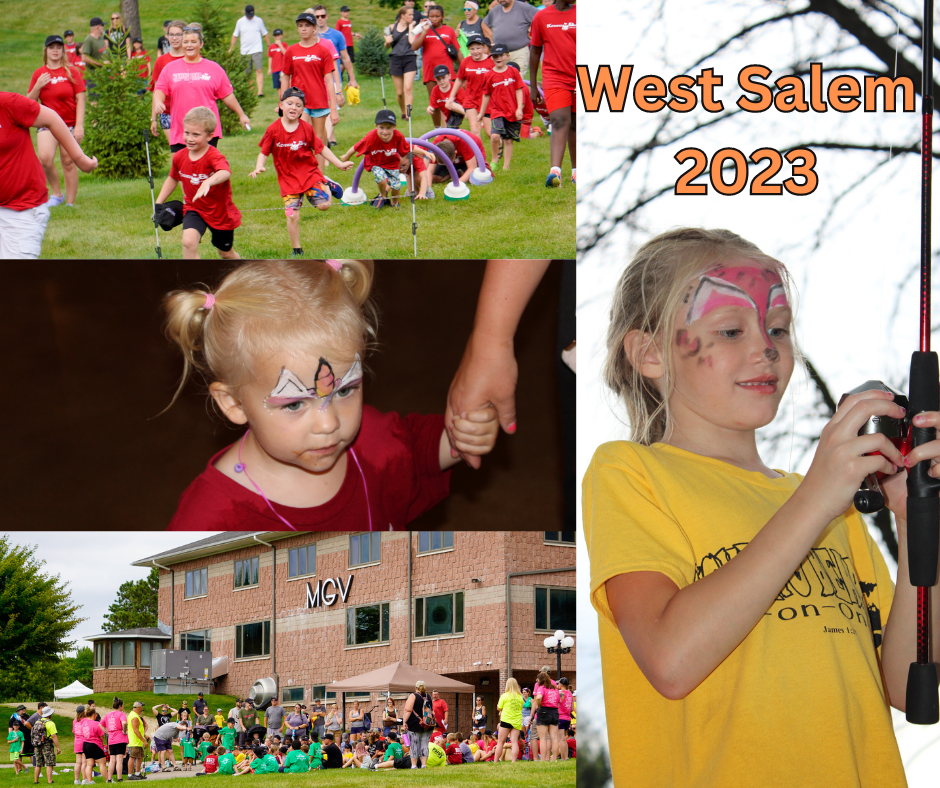 By Kevin Bonnar
Psalm 18:2  The LORD is my rock, my fortress and my deliverer; my God is my rock, in whom I take refuge, my shield and the horn of my salvation, my stronghold.
We wrapped up the month of July with our "home" camp in West Salem, Wisconsin.  Our awesome hosts at Maple Grove Venues really do an awesome job of giving us an amazing space to hold this event year after year.  We had our eye on the weather all week for this event and the forecast seemed to change daily, so we were praying hard for nice weather.  Come Friday afternoon it looked like answered prayers, in fact I put out a message on FB saying, "weather looks great, let's party!"….that didn't age well.  More on that later.
Our night got off to an amazing start as kiddos took trip after trip down the giant slip and slide, so many giggles and smiles.  After a bit we grouped everyone up for the safety meeting and then started rotations around the event with groups getting to try archery, tomahawks, sligshots, bb guns, bowfishing, casting poles, arts/crafts, face painting and the KB tough course.  We were also blessed to have the fire department and local law enforcement bring out their service vehicles and share with families.  One cool new station this year was the Raptor Resource Project, they brought out some birds and shared all about them with kiddos.  Everyone was having a blast and things were going great.  But, the sky was growing dark and then we got the news that the local flight for life helicopter that usually flies in was not going to be able to make it because of the weather.  This got us looking up into the darkening sky a little more and before you know it, we heard that first rumble of thunder.  We quickly got everyone off the course and gathered inside the MGV ballroom.  Some phones started going off with weather alerts and all the sudden we had quite the storm sweeping in on the area.  We scooted the curious kiddos back from the windows of the ballroom for safety but we all gazed out with big eyes as a fierce wind picked up and rain started to fall.  Things got wild as that rain turned to some of the biggest hail I have ever seen in my life!  It was looking like our night was over and we were really just hoping to get everyone home safe.  
I had no idea at the time, but while many of us were running crowd control and trying to figure out our next steps several of our volunteers had gathered to do the most important thing….pray!  It really reminds me of the story of Martha and Mary in Luke 10.  I tend to Martha quite a bit, especially at events, but during this wild storm it is so awesome that Godly men and women stopped and fell to the feet of Jesus to ask him to keep us all safe and let the storm pass.  And just like he did in the boat for the disciples, Jesus calmed the storm!!  Later that night as we traveled through the neighboring town of West Salem we realized that not only did Jesus calm the storm but that God had really protected us too.  In town there were downed trees and no power for most, but just a few miles away we were kept safe and never did lose power through it all.  One of those times you could really feel the truth that God really does answer our prayers!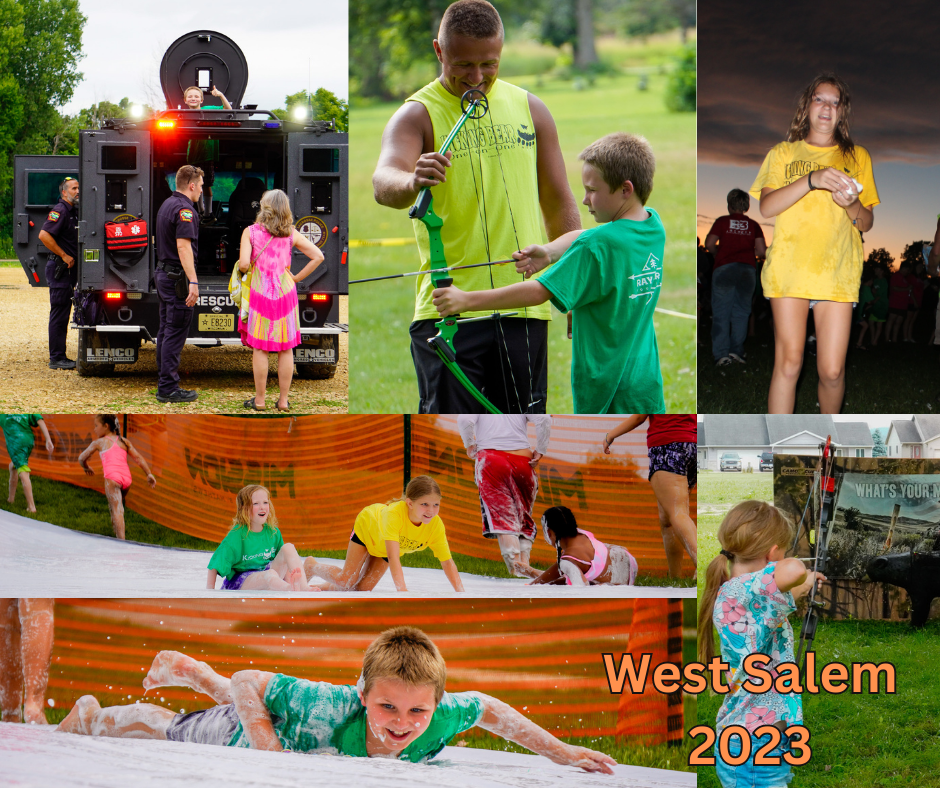 As the storm outside calmed our good friend Nicole shared her testimony with the crowd.  Nicole is a recent graduate from Adult and Teen Challenge of Western Wisconsin.  ATCWW are great friends of Kicking Bear and the women there are always so willing to help the ministry out whenever we reach out, in fact they had helped us pack all the free backpacks a couple weeks before camp and were also at camp that night helping in many ways.  So it was really cool for Nicole to share, especially because in her testimony she shared about serving with KB and even getting baptized at last year's camp!! What an amazing story of overcoming dark times and finding freedom through a personal relationship with Jesus.  Her story must have inspired many because after she shared, even though the storm had seemed to pass, the crowd was not ready to go home just yet, they wanted to do baptisms!!  So, we pulled up the truck with the baptismal tank and celebrated as 19 people declared to the world that they have believe and love Jesus!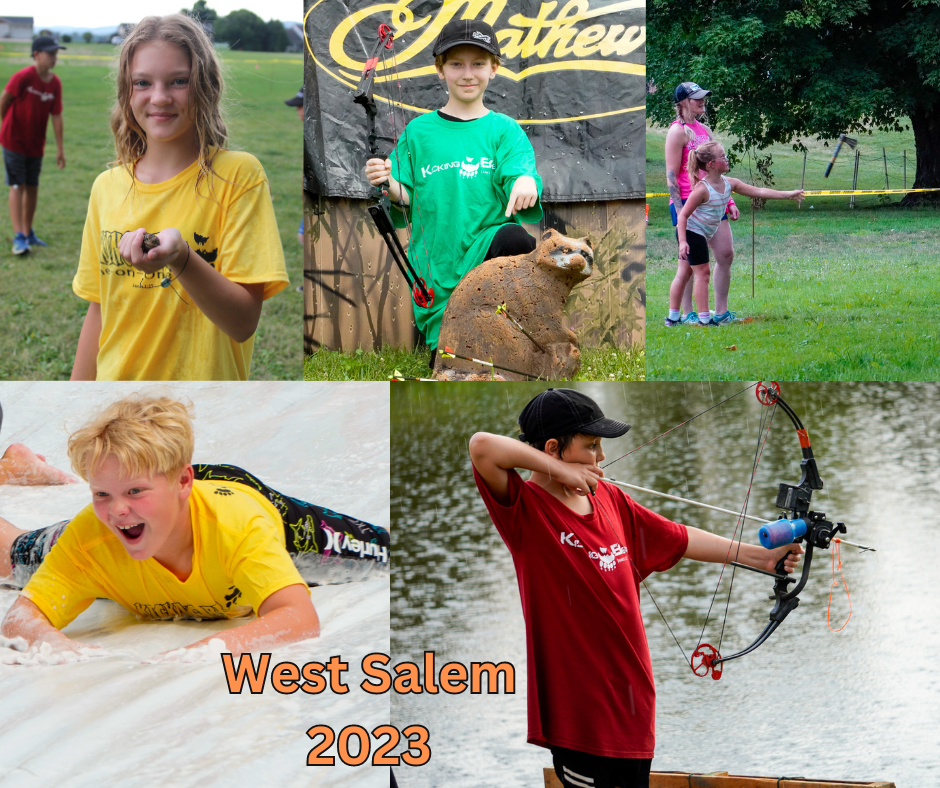 What an incredible night and way to end an awesome month of ministry!  So many decisions for Christ, so many baptisms and so many beautiful memories had by all.  We are so very thankful to all the volunteers, organizers, sponsors and families that serve in Kicking Bear and make it all possible.  We have one more month of summer fun before we transition to fall events, check out August events at www.kickingbear.org. 
We got to celebrate so many baptisms in July!! God is awesome and we are thankful!!