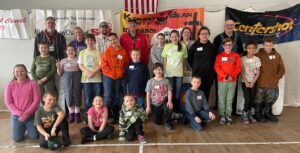 "Michael Ritchie and Roscommon Baptist Church have caught my eye since day one of starting full-time at Kicking Bear.  Michael does a great job sharing about all they do up in Michigan and it is a lot.  It is really cool to see how Kicking Bear, Centershot and Outdoor Ministries can really change a church and a community! We reached out to Michael this month to have him tell us a little about what all they have going on up north and how they manage to do it all.  I would strongly suggest if anyone wants to know how to get more going on at their church or in their community that they take up Michael's offer to connect, let's multiply this great discipleship!"–Kevin Bonnar
The Great Commission 2023  
Hello brothers and sisters in the Lord,  
We are a 1/4th way through 2023 and events are coming at us like water through a fire hose! Sometimes we can get overwhelmed by everything that has to be done.  Because it can be a lot, we need to understand some things to prevent burning out, especially knowing that the great commission is for each one of us.  
18 And Jesus came and said to them, "All authority in heaven and on earth has been given to me. 19 Go therefore and make disciples of all nations, baptizing them in the name of the Father and of the Son and of the Holy Spirit, 20 teaching them to observe all that I have commanded you. And behold, I am with you always, to the end of the age." 
Roscommon Baptist Church in Roscommon, MI. is a small church with a full plate of activities this year and much planning goes into accomplishing things on our calendar. I am sure your church is the same way.  
Alongside our normal church activities, our church also has an outdoor ministry. This included starting a wild game dinner 27 years ago, then expanding into the Centershot program, Youth and Veteran mentored hunts, Centershot/Kicking Bear Camps, adult retreat bow hunts in Illinois, Ontario bear hunts, 1 day archery outreach events at other churches, orphanages, fairs, and SCI fund raisers etc.  
With all this going on how do we continue to keep going?  
Remember our motivation. Love. After all wasn't that God's motivation for sending Jesus to save us. The greatest of commands from Jesus was to Love God with all our heart and others as our selves.  
Remember that God who called us to do something will also do it! Trust that he will.  
Remember we do not or should not try to do it all on our own. Enlist others. Moses was told to enlist faithful men with good reputations and love and serve the Lord to help us.  
Remember our labor I the Lord is not in vain because when we share God's word faithfully, he promises to proper his word. His promises– remember them  
Remember the Holy Spirit will guide our priorities. Listen  
This year's schedule includes: 
Feb-March an 8-week Centershot program at a community exercise facility. WE had 18 kiddos and had 5 give their hearts to Jesus!!!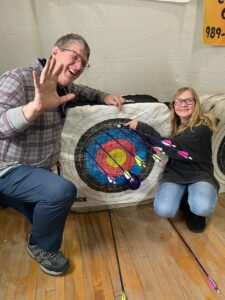 Hunter safety April 22 and August 12 at our church. We teach all the safety rules but also short presentation about man's responsibility to God and to others. We give them a Gospel of John for their backpacks.  
May 20 we are helping to host a Centershot Tournament in Hillsdale, MI.  
July 13-15 at Bambi Lake Baptist Camp we are hosting the following.  
July 13– a Kicking Bear Champion Training Camp 
July 14th– Kicking Bear Camp with Ray Howell and Kevin Bonner 
July 15- Centershot NASP 3-D and Target archery tournament.  
With Baptisms at 3 PM. Last year we had 6 baptisms.  
September Youth Hunts and crop damage hunts for deer.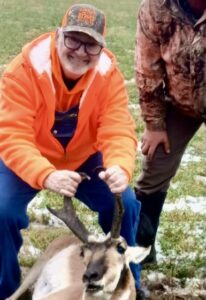 Sept-Oct- Disabled youth and Veterans hunts and fishing.  
November Illinois deer hunt and outreach  
God's command is to go into all the world and make disciples.  
How will we accomplish all of this? Love, Trust, Enlist Others, Remember God's promises and Listen to His Holy Spirit.  
And God is able to make all grace abound to you, so that having all sufficiency in all things at all times, you may abound in every good work.