Patience and Perseverance Pay Off for Reese 
Galatians 6:9 "And let us not grow weary of doing good, for in due season we will reap, if we do not give up." 
I met Reese's mother Meredith in the fall of 2021.  They were moving down from Michigan and had asked if anyone from church could help unload the truck.  I love helping with that stuff and as we were moving stuff I was excited to discover that Meredith had a couple boys and one of them would be joining the youth ministry I was overseeing at the church!  A few weeks later I was introduced to Reese!  Funny sidenote, it was actually so loud the night I met him, that I heard "Leif" as his name, we still laugh to this day because I called my poor friend Leif for the first couple weeks until one night in a small group he very kindly corrected me 🙂  
Reese and I hit it off right away and it was cool to get him connected to other students in our youth group.  Last spring Reese volunteered to help out with our Shed Antler/Easter Egg Hunt and while helping out he mentioned he would like to start shooting more archery and possibly even try hunting with a bow.  So, Reese and I started meeting weekly at the church and using our Centershot equipment I got a Genesis bow in his hands and we were off!  Reese was a great student and really caught on fast.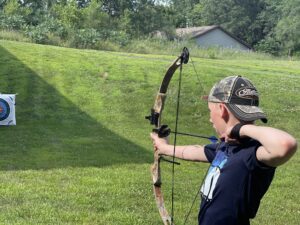 A couple months passed and as we kept spreading the word that Reese was interested in deer hunting a friend from church named Blaine Moe stepped up and offered to guide him on some land he had in Minnesota!  Blaine also donated a nice bow to Reese which really fired him up.  We gradually started stretching out those shots and turning up the pounds on that bow.  Reese was really getting dialed in!  As summer hit another friend of Kicking Bear, brother Darren Grefe stepped in and started working with Reese too!  Darren helped get Reese through hunter's safety and they also had a lot of fun shooting cross bow and rifle with friends Riley and Gunner.  Reese also stepped up and volunteered for many of our Kicking Bear camps.  By the end of summer Reese was ready to go hunting and thanks to brother Darren he could use a bow, cross bow or rifle now!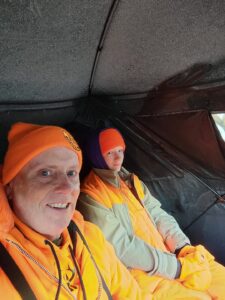 His first chance at that deer was going to be the Kicking Bear Wisconsin Youth Hunt in October.  Brother Sarge Symons stepped up to guide Reese for the hunt.  They got out in the blind 3 times that weekend, but other than some turkeys they just didn't get any action.  Reese stayed positive though and he never let his excitement waiver.  He gained a lot of experience and wisdom during those sits with Sarge!  Next up was getting out with brother Blaine in Minnesota. They had a great spot for hunting, and while they saw some deer, they just couldn't get anything in close enough for a shot with the bow.  Patience was the lesson again.  I decided to take a try, Reese and I sat up at Ray's place one night.  After a quick prayer for action, we were sure that tonight was the night.  The problem was that a squirrel decided that the action that we were praying for was going to be a squirrel attack on our blind.  One doe did hop the fence and looked like it was going to come in, but just as Reese was peeking out the door to see if we could scare off that pesky squirrel, the doe spotted us and took off.  Another sit, no luck yet.  But Reese still stayed fired up and hopeful! 
The next chance out was going to be muzzle loader season with Blaine again.  Blaine was really excited about the opportunity and the deer were really moving.  Sure enough, Friday afternoon and the first sit for muzzleloader was when Reese would finally get his shot.   
Blaine and Reese got set up in the stand that afternoon and after about an hour and a half Reese spotted some bucks moving about a quarter mile out.  They glassed them until they bounced off into the woods.  It was exciting to see them, but they feared that the deer were headed out rather than in.  After a few minutes though, up popped another buck surrounded by 5 does and he was only about 60 yards out! Reese put the scope on him and he had a great shot.  He pulled the trigger and after the smoke cleared they could tell he made a great shot, a real nice 8 point buck dropped in his tracks.  Reese had gotten his deer! 
When I asked Meredith to share her heart about Reese's first buck she shared this, 
"I prayed that when we moved here God would send people (Men of God) to be a positive manly influence on my sons. He answered with exceedingly and abundantly more than I could ever ask, or think. 
Thanks to First Free Church and you for connecting him to Kicking Bear. The time you all have invested in my son is priceless. words cannot express the gratitude I have in my heart for all the great men that give their time pouring the love of Christ into my son. Thank you to Blaine and Sarge for taking him hunting. For years, he has talked about how bad he wants to go hunting. He spent the summer with Darren learning how to shoot a bow and gun safety. Such a proud mom moment to see his patience and confidence pay off. What a great buck he got!!" 
We are so happy that Reese was able to see his dreams come to life and he got his first buck!  One of the neatest parts of Reese's success is the number of Godly men who stepped in to help him along the way.  The other cool part is the way that Reese stayed positive, patient and thankful through all the hunts until he was finally able to harvest his dear!  In an age of instant gratification it was cool to see a young man trust the process and work so hard to get his deer! 
Blaine shared this about his experience guiding Reese,
"I would like to say that hunting with Reese and being one of his mentors, it was just as exciting to see him get his first shot at a deer and harvesting that deer as it was taking my own kids out and getting their first shot.  It was just a super experience!!"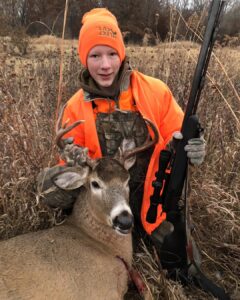 Lives are changed when we say "yes" to mentoring the next generation of young men and women.  Thank you to all in the Kicking Bear family who say "yes" and make a difference!