While folks were jingling up in Wisconsin at the Kicking Bear Jingle Bear Run, Ray was headed south through San Antonio with a group of mentors and kids to cross the border into Mexico. The group of hunters drove about 45 minutes past the border to a ranch called Rancho Cuevas, owned by Mark Budzise who so graciously invited Kicking Bear kids to come chase their dreams and hunt some incredible critters. The three young hunters along didn't know each other before the trip, but turned out to be best friends as the week went on.   
Justin was one hunter that Ray had met back in June at Hunt 4 LIfe's LifeCampUsa camp in Colorado.  He is 13 years old from North Carolina. Hunt 4 Life is an equally yoked ministry that Kicking Bear is so blessed to team up with.  When Ray asked him what his dream critters were to hunt, he said he wanted to pinch a giant pig and a big Whitetail deer.  So as Ray has done with so many young hunters through the years he told him, "well, we can get that done."  And sure enough because of Mark's desire to bless others the time and place was provided and it was time to hunt!  
The ranch is an awesome place. Mark has 10,000 acres and it is just crawling with great environment and critters.  The kiddos and guides were all so excited for the opportunity to get out and see what the hunts would bring. The first young man to pinch was Casey from Nebraska. He took his Mission bow and after practicing with his camp mates, he made a perfect shot and put an arrow right through a big javelina. You cannot believe the excitement he had and such giant smiles. Was a cool way to start the hunt and bring things back to camp that night.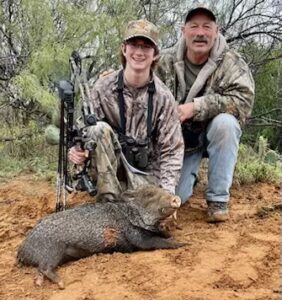 At night they built big campfires and sat around telling stories.  The best part of the trip was that God blessed them every day with the opportunity to share the Gospel with all these ranchers, mentors and kids.  The message was given that God has made all of us perfect in every way to do his will no matter what our challenges are. We don't have to be big muscle me or wear lots of makeup to be beautiful. We are all beautiful because we are made in His image! 
For we are his workmanship, created in Christ Jesus for good works, which God prepared beforehand, that we should walk in them.–Ephesians 2:10 
Most of the time in Mexico the love of Jesus was shared by actions as much as words.  One example was what Tom and Kris from Big Bucks Plus did to make this hunt possible. As the hunt went on, they were continually skinning and cutting up deer and hogs that the boys were harvesting.  This selfless service, along with Mark's beautiful invite onto his land were a real cool way to share with the young hunters that they were supported and loved. 
The next hunter to fill was Justin and he was living out his dreams coming true. He pinched a giant hog!!  You would not believe the size of this critter, the teeth were just huge.  When they tried to drag the hog out they could not move it by hand so they had to come in with a wench and get it out of there.  Justin was just going nuts because he was so crazy happy! 
There were so many whitetail deer on this property, it was awesome!  The next time out of camp Casey was the first one to take a big whitetail. What a dandy!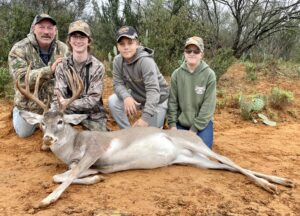 The fishing was also amazing.  JW Simonson, from Simonson's Angus in Nebraska, is a Kicking bear team member and he was paired up with young Cooper. Cooper was working his tail off to land a big one and was getting nervous as the time to leave for hunting was creeping up faster than the fish.  But, just before everyone was ready to leave for hunting, he hooked one and landed it!! Nothing got the camp hooting and hollering like those boys landing huge bass. So fun!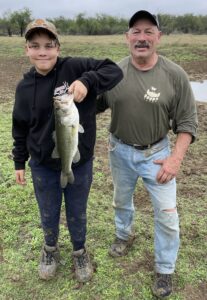 That afternoon they took Cooper to an area where they had seen some big axis deer. Ray was with him and he could not believe these giant deer!  Well after sitting for a few, five of those deer came in and only four went back out. Cooper made a great shot and pinched a deer that Ray thought was 10 years old, it was a magnificent critter!  And at the same time on the other side of the ranch Mark was out with Grant who pinched a huge Orex. Mark was an incredible guide who went above and beyond to work hard getting kiddos on animals.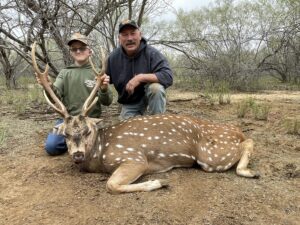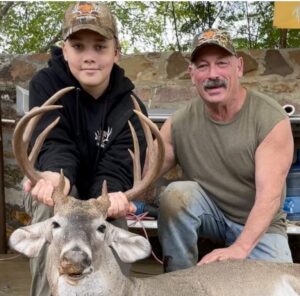 Justin second dream came true when he pinched a huge 11 point whitetail next. The whole week of the hunt Roger Ragland, and his son Josh were filming everything for their show Roger Ragland outdoors. The last day of the hunt right down to the last hour.  Make sure to keep your eyes open for that video when it comes out.  
On that last day Grant finally got his dream buck as he pinched a giant 10 pointer.  Grant uses a wheelchair, so the team helped him get on top of a truck into sort of a moving/elevated blind that was able to get him into environments with the deer, it was really cool! Grant was so happy to harvest his buck and it really put the exclamation point on an amazing time in Mexico!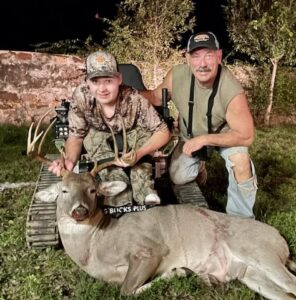 The ministry of Kicking Bear is so blessed to have people involved with us that are willing to take their time to help others. We are looking forward to going back to Mexico again and see and what God has got planned for all the kids on our next hunt!