Just Right at Justin Trails
By Kevin Bonnar
We ended up the month of August with our first ever camp at Justin Trails Resort outside of Sparta, WI.  Our great friend Dawn Justin reached out last spring and she really had passion for bringing Kicking Bear out to her family's place, feeling like it would be a great fit.  So, we got the ball rolling and Dawn even jumped in for our Champion Training this summer to learn as much as she could for the upcoming camp.  It was exciting for us to be starting up a first year camp close to home as it gave us another great opportunity to plug in many of our volunteers that had been trained right alongside Dawn at our July training camp.  We had 5 Kicking Bear Champions serving at this camp and we also partnered with 6 different churches to gather volunteers.  This included a full worship band from The Berean Way Church in Sparta!  We felt so blessed to see the body of Christ come together, from Dawn's heart for the event to all the "yeses" of the volunteers, truly amazing.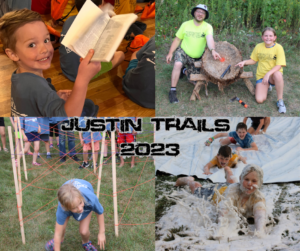 Justin Trails turned out to be the perfect spot for a Kicking Bear camp.  The rolling hills, big sunflower patch, cut trails and some of the best weather we have had all summer set the scene.  We had so much open space for archery, bb guns, tomahawks and slingshots it was great.  Then we had a nice steep hill for our tough course and slip n slide.  To top it all off there is a beautifully refinished barn were we served food, did arts/crafts, had the bouncy house and one of the best parts of the evening was when we all gathered for worship led by Pastor Travis and his crew from church.  Travis shared John Chapter 1 with all the families as kiddos took out their new bibles and bookmarked that spot so they had a good place start their journey into the Word.  He reminded us all that even if life can get dark sometimes, "The light shines in the darkness, and the darkness has not overcome it."–John 1:5  A bunch of folks hearing the Word of God in a big red barn in Wisconsin as the sun sets, what a night!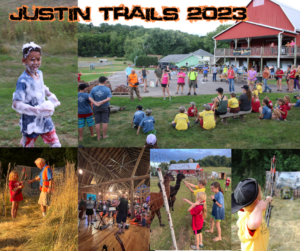 Ray shared the Gospel message right then and there and we had so many kiddos give their heart to the Lord by saying the salvation prayer it was really beautiful.  The worship team really sealed the deal with one more song before we headed back outside for a little more fun.  Tug of war got a little wild when I thought for the first time in a while the kiddos were gonna beat the adults, but just at the last second the adults squeaked it out.  Man were we laughing about how close it was though, it was either tough kids or tired parents, created so much fun!  After some friendly marshmallow flinging we celebrated with two young men declaring to the world that they love Jesus by being baptized.  We are so thankful for how everything went just right that night and can't wait to have more events out at Justin Trails Resort.  Thankful.