By Tom Lalond
Where do the winter season, deep snow, and arctic temperatures keep you? Like many Midwesterners, it keeps us locked indoors until the long-awaited spring thaw arrives. The warmer temps and melting snow helped kick off the Kicking Bear season with a big spring shed antler hunt! Even though we were faced with a couple feet of snow lingering in some areas, the overall number of people that showed up was much greater than would be expected if those people were "results"-focused. There was definitely a common theme amongst this group, and it was a thankfulness to be able to enjoy the warm weather and God's creation! The Golden Shed Award, the most prestigious and sought-after award in all of Kicking Bear, was won by one very special boy who taught us that you can never underestimate the impact you can have in someone's life.
With the worldly focus on likes, shares, and subscriptions through social media, which can be a great tool, we can often forget about why we're posting those big buck photos, matching sets of sheds, or other great family traditions. The reasons can usually be traced back to one word—joy. God gave us all a desire to share joyful things. With all this in mind when planning this event, I thought that we'd get maybe a few kids and a couple of parents to join us for the day. However, to my joyful surprise, we had a full house at Living Waters Weddings, Retreats, and Cabin Getaways. So, from all of us at Kicking Bear Ministry, THANK YOU to all who came out to make the 2019 Kicking Bear Shed Antler Hunt an incredible success!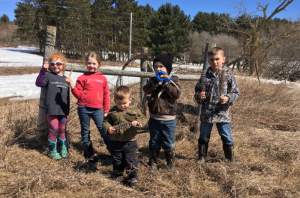 Many folks told me the highlight of their day was simply being able to get out of the house and run around in the woods! At the beginning of the event I found myself apologizing for the "poor" shed hunting conditions due to the 12 plus inches of snow throughout the properties we got to search on, but folks continually reminded me that they were incredibly grateful to be outside. After a morning full of climbing ridges and scaling coulees, everyone was dead tired, but once we ate lunch and had some time to fellowship, it was GO TIME! That's when some of the craziest stuff happened as we were throwing tomahawks, shooting Genesis bows, and running all around the Living Waters farm! As cabin fever sets in over winter, we usually look for any excuse to get outside when the temperatures start to trend towards the positives. Many of the parents and mentors who were in our group even went so far as to say, "It doesn't even matter if we find a single shed, it's just great to be in the woods." Personally, it all was a needed reminder that it's the simplest things that bring us the truest joy in life.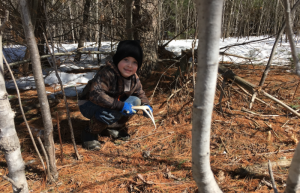 The Golden Shed Award. This award is by far the most well-known, prestigious, and valuable award in Kicking Bear Ministry, and possibly in the whole hunting industry! This year God had a special plan for the winner of this award. Five-year-old Henry Jensen came to the Shed Hunt with his mom, dad, and his little two-year-old brother. They were all very capable outdoorsmen and woman. Henry's mom, Tiffany, didn't need any help trudging through the woods and snow while carrying her sleeping two-year-old. Sam, Henry's dad, was often leading the charge into the thick stuff with Henry in tow. After our first property was a shed "bust", we made one last-ditch effort before lunch, and this is where the trophies were laying around. We left the field edge, walked 20 feet, looked to the left and found the white "gold" laying under a pine tree. It was that fast and that simple! The impact it had on Henry and the confidence it gave him, however, was much greater than the time it took to find the shed. He and his dad were talking about the shed size, color, and location for the next 30 minutes. When asked what it meant to him to find the shed, he said, "My dad was really excited and so was I." Then after Henry won the Golden Shed Award he said, "I feel how I always feel after I win an award!" Tiffany asks him, "Were you happy or sad?" Henry said, "I was HAPPY!"
We truly never can judge what a simple act can mean to a person. To many of us, finding shed antlers is really fun, but may not hold much more weight than finding a great buck rub or scrape. While talking to Sam and Tiffany during the event, as well as after, I learned that Henry was having a tough year. His parents were told to do activities that would help instill and restore his confidence. I knew none of this going into the hunt. Henry persisted through the struggles of walking a long distance without finding a shed, the pain of trying to break-in new boots, and the desire to want to relax in the truck. These things went relatively unnoticed by those around him, except for his parents. That young boy gained so much belief and confidence in himself because of something as simple as finding a shed deer antler. Please never overlook, or undervalue, the importance of accompanying a child in God's beautiful creation in search of something.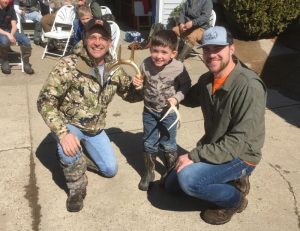 Thank you so much to all the incredible families and mentors who helped make the 2019 Shed Antler Hunt one to remember for so many people. Thank you for coming out to enjoy God's simplicity He gifted us in His creation. When we are in the presence of our Creator, while out in nature or anywhere, we cannot deny His love and peace. That fact is also why we are usually too grateful to worry about things like "too" much snow for shed antler hunting. That rang true for the mindset of the people who came out to the Kicking Bear Shed Hunt.
For a final thought, never question the time spent investing in another person's life, because no matter how simple an act can seem to us, we may never know what that action can mean to another person.