Therefore encourage one another and build each other up, just as in fact you are doing.
Back in July I wasn't able to spend the day with my buddy Reese for his birthday.  I remember telling him we would make up for it by doing something awesome another time.  Little did I know that would be a bear hunt!
We were really blessed this year to have a tag donated to Kicking Bear and when Justin Briski reached out to me to let me know, I knew which kiddo I was going to ask first.  Reese has been running around with all of us at Kicking Bear for a couple years now and he even steps up to volunteer at local events with us.  I was really hoping he would be interested and things would work out. He was a very quick "yes" and we were both excited to be off on our first bear hunt.  Then it hit me, I had never been on a bear hunt, Reese had never been on a bear hunt…..this could be interesting! Justin helped set us up with a guide with some help from friend of Kicking Bear Jason Bertrand, he also let us borrow a rifle for Reese to use.  We were green, but we were ready!
I didn't have much time to doubt what I had signed us up for as I got home from a family vacation to Colorado on Wednesday and then got news that we might be out to hunt as soon as the weekend. When the call came in on Friday from our guide Hunter Tuckwab, owner of Hunters Trophy's End Guide service, we packed up the car the next day and headed north.  The Briski family blessed us by setting us up at their cottage which was really close to where we were going to be hunting.  We arrived up north and Justin's folks, Kris and Frank Briski, got us settled in. They were so nice and Frank was excited that his old rifle was going to be used by another young bear hunter.  His two grandsons had used it in the past to get their first bear.  Then we met up with Hunter and his family and went out to check on some bait sites.  It was really cool the way Hunter explained everything to us and helped us get a vision of what the hunt would be like.  We went to bed that night pretty pumped up!  
The next morning we rolled out early into a light rain.  Hunter let us know which bait sites had bear activity the night before and we picked a couple out to go let the dogs loose on.  Hunter has an amazing pack of hounds!  One of my favorite parts of the whole hunt was hearing from Hunter and his father Jamie about the history of Hunter's passion for running his dogs.  Starting at a young age Hunter fell in love with having hounds on a track and teaming up with them for the hunt.  At the age of 10 he made a birthday request for his first dog and has never looked back.  His lead dog Legend has been with him for 7 years now and she is absolutely brilliant.  That morning Legend lead the team through the rain and worked hard to get on a bear, but the wet conditions washed out the scent just enough to send us off for a late breakfast and many prayers for the clouds to break.  Over breakfast the rain just kept up enough that we decided maybe resting up and heading back out that night to check baits would be the best call for the day.  Or so we thought.
At about 3 o'clock I got the text from Hunter, one of the bears had come back to the bait site that afternoon!  We quickly packed back up and met Hunter and his family to head out.  Sure enough as soon as the hounds hit the ground there was a different feel from the morning and you could see the confidence in Hunter's eyes as well, they were on a bear!  Watching the dogs on the GPS you could see them track the bear and even distinguish between their different barks while they worked together.  As we watched them hit a hard scent trail Hunter smiled and declared, "they are on one!".  Oh the excitement!  We hit the path towards the dogs and you could hear them bellowing as they had treed a bear.  We got to the tree and set up Reese for his shot.  After a few calming breaths he put the bear in his sites and made a clean kill.  Reese had gotten his first bear!!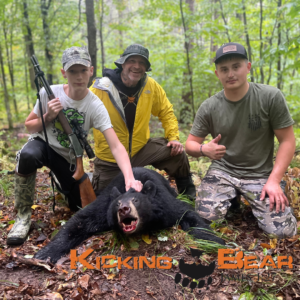 Reese jumped in and field dressed his bear and Hunter and his father were great helping Reese during the process.  They were so patient and you could tell they really enjoyed seeing the seeds of bear hunting being planted in this young man.  We headed back into town for supper and I could not stop smiling as some local folks came out to see the bear and congratulate Reese.  Such a proud moment for him and I was very thankful to share it with him.  Huge thank you to Hunter, Elliot, Jamie and Monique for being so helpful and generous to us.  I highly recommend if you are looking for a guide up around Wabeno, WI who can run dogs, Hunter Tuckwab is your man and you should definitely give him a call (715) 889-0417!
Driving home with Reese we thanked God for such an amazing experience. Thankful for the opportunity and all that were involved in a successful hunt.  For me it was also a reminder that we can say yes to things even if they are new or we haven't mastered them yet, I was pretty nervous for it all if I'm honest, but in under the guidance of Hunter and with so many people helping out, it was just a really awesome time for us both that we will never forget!