March was all about the schools for Kicking Bear base camp.  We had two amazing opportunities to get into schools and meet with students. 
Our first school was Blessed Sacrament Elementary School in La Crosse, WI.  Former intern for Kicking Bear, Alex Parsons reached out to invite us.  Alex is currently the PE teacher at Blessed Sacrament and he was doing an archery unit with his students.  He invited us in to share the Life Bow from Centershot Ministries with his students.  The Life Bow was created by Centershot and with different colored components it can be used to share the salvation message.  Check out more here: https://www.youtube.com/watch?v=Ln40gzAstBI  It was so cool meeting the kiddos and sharing the Gospel with them using such a great visual like the Life Bow.  After sharing the students were excited to share what they had learned about archery.  Mr. Parsons really had them set up well, so it was fun to see the kiddos be safe, be successful and have fun shooting their Genesis bows!  We also invited all the students to camp and sent them home with Kicking Bear backpacks and calendars.  Huge thank you to Mr. Parsons and Blessed Sacrament for inviting us.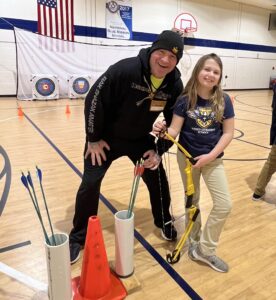 "Kevin pictured here with Elsie!  Her momma is Danniela and Grandpa is Ray, lots of Kicking Bear blood in this kiddo!"
Our next school stop was at the Northside Elementary School also in La Crosse, WI.  Northside uses a year-round school schedule so they were actually on one of their mini breaks for the year.  This meant that we got to be an exciting opportunity for students in grade K-5 for two mornings in a row!  We had one-hour sessions with the kiddos and they were split into three groups based on age/grade levels.  We set up our archery course, tomahawk station and some arts and crafts.  The first day we talked to students about three things, their foundation, their form and having fun.  After a safety meeting our groups started rotating through the activities.  We were so blessed to find a full team of volunteers, so every kiddo shooting a bow had their own guide to learn how.  It was so awesome and fun to see kiddos find success with the bows and tomahawks, also so cool to spend quality time chatting and making friends at the arts/crafts station too.  For many students it was their very first-time shooting archery.  Even the teachers were jumping in on the fun!  The second day we talked about unity and how awesome it was to see everyone so unified the first day, unified in learning new things, unified in celebrating successes and unified in treating each other with a lot of kindness.  Another great day was had by all, but Ray had one more trick up his sleeve.  Before we left for the day he convinced the Dean of Students to invite ALL the groups back for a good ole tug of war!  You should have heard the war cries in that gymnasium,  what a good time and awesome way to celebrate a great two days!  All students were sent home with a Kicking Bear backpack and calendar and we made sure they highlighted our local camp dates in those calendars, we would love to see them all at a camp this summer!  Huge thank you to the Northside School for inviting us, such a great group of students and staff there.  Check out the Kicking Bear YouTube Channel for a video from the Northside event.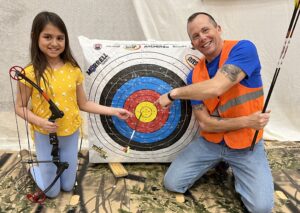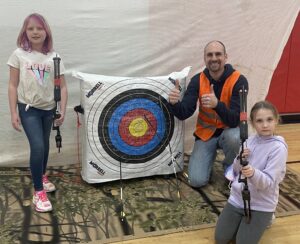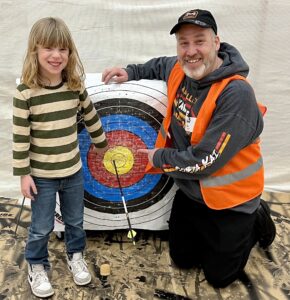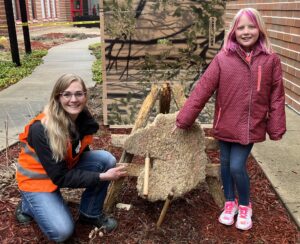 If you would like Kicking Bear to come into your school please reach out to Kevin—kevin.bonnar@kickingbear.org